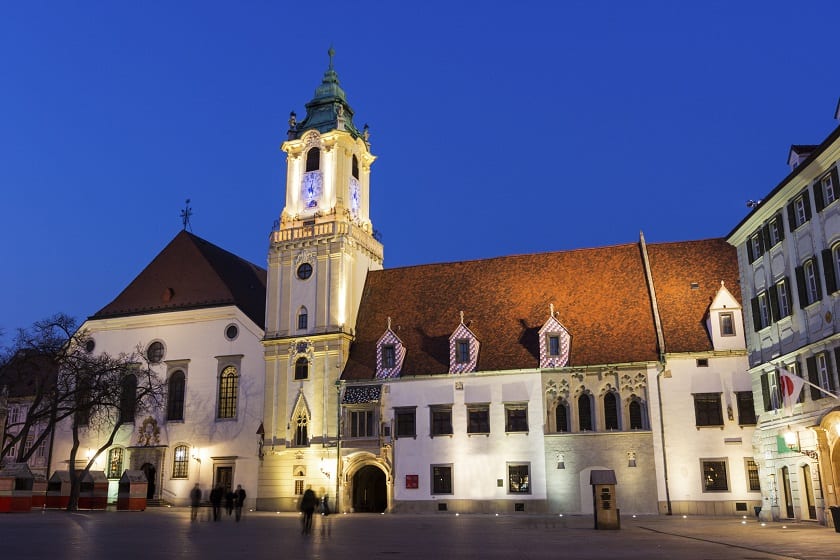 Originally the site of a towered house in the 14th century, the old town hall arose in the 15th century by connecting several burgher houses, and then went through several reconstructions in the course of the centuries. After the earthquake of 1599, it was reconstructed in Renaissance style, while the town-hall tower was rebuilt in baroque style in the 18th century. In 1912 the rear wing was constructed in neo-renaissance style from the side of the courtyard, and neo-gothic style from the side of the Primacial square.
The town-hall tower was of defensive nature. At the bottom, you can find a table with the date of February 1850, marking the high water level when the Danube flooded. Left of the Gothic window, there is immured a cannon ball commemorating the attacks of Napolenonic troops in 1809. At the corner of the tower, the statue of Madonna of 1676 is located. Decisions of the assembly, royal decrees and orders of the town council were announced from the balcony of the tower in the past. Note a fresco of an old man of 1533 as well as a statuette of the Hungarian King – St. Ladislaus.
The Municipal museum is the oldest museum in Bratislava, as it was founded in 1868. Entrance to the exhibition of the feudal justice system and history of the town is in the corner of the courtyard.