Perfect scenic points are hard to find when you don't know the city well. Since Bratislava is partly situated on the hills of Small Carpathians (Male Karpaty), there are a few worthwhile scenic points not to miss.
Bratislava Castle
Bratislava Castle is located on the Bratislava Castle Hill overlooking most of the city of Bratislava, Slovakia. While on the castle grounds, you could easily see Western, Southern and Eastern parts of Bratislava. 

To the west you can see the building of the Parliament of Slovak Republic built in the later years of Communist rule and finished only after the fall of Communism in the 1990s. The legend has it that the Communist rulers wanted their seat as a symbol of power on par with Austro-Hungarian kings – hence the location on the Castle Hill.
The Danube bridge Lafranconi and more further distant hills and plains with eletric windmills (turbines) located on the territory of Austria lie in the southwestern direction. In the Communist era people in Bratislava were able to see Austria but hardly anyone got to travel there. Many Slovaks dreamt their dreams of a better life with this vista. Remains of Water Tower that once looked over the river lie just below the Castle Hill to the south. Every once in a while the ruin is the host of large dance parties.
When looking straight to the south on the other side of Danube, you surely won't miss the vast Petrzalka city quarter with lot of greyish blocks of flats. If Petrzalka were to separate from the rest of Bratislava, it would be Slovakia's third largest city in terms of population in its own right. There is significant concern over what will be done once the pre-fabricated panel buildings reach the end of their useful life and become inhabitable. Removal costs would be immense.
There is Old Town on the east and further east parts New Town (Nove mesto), Ruzinov, Prievoz and Raca are located. Forests of Small Carpathian mountains are located to the north-east as well as some Bratislava wineyards. Accommodation options close to Bratislava Castle: Pension Castle Club, Hotel Danube, Hotel Devin and Botel Marina.
Slavin monument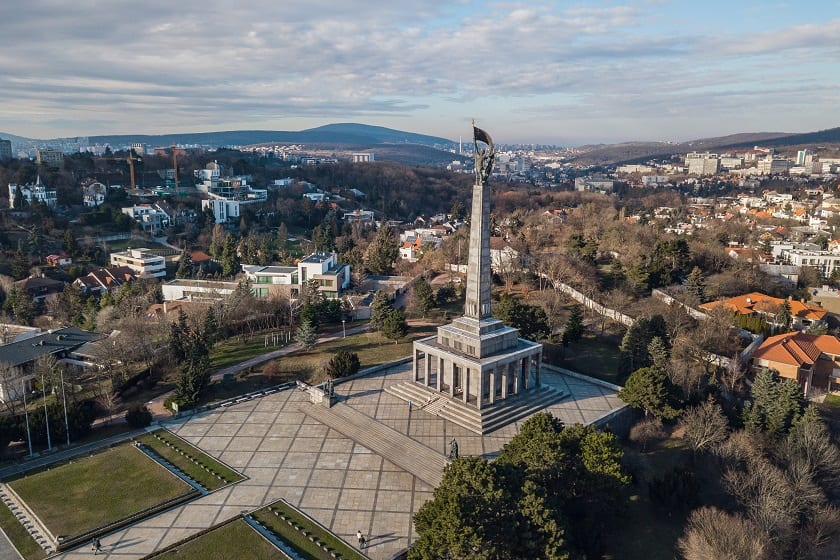 Slavin war memorial reminds us of fallen Russian soldiers during the World War II. Slavin monument is erected on the hill, making it the perfect place to watch New Year's fireworks or just to visit and see panorama of Bratislava. Slavin lies close to Palisady street and is in vicinity of the following hotels: Hotel Antares, Apartment Hotel Residence Sulekova.
Kamzik TV Tower
Kamzik TV Tower was built in 1975 and with its height of 200 meters is the highest building in Bratislava. There is restaurant called "Tower" inside. One of the local specialty is that restaurant turns around in a circles providing a perfect view to all directions. In clear weather you can even see Austria and Czech Republic. Best Western Hotel West is located just some 100 metres from Kamzik TV Tower.
New Bridge's Tower
Restaurant located in a tower of New Bridge (Bridge of Slovak National Uprising) is situated 85 meters above the Danube river. It was reopened in June 2005 and named "UFO" after its flying saucer shape. Once there you have a beautiful overview of everything going on in Bratislava. There is a largest city part of Bratislava – Petrzalka in hand's reach with large block of flats as well as Bratislava Castle opposite to New Bridge's Tower. And in spite of populars belief this restaurant has never spun – witness that it is lodged asymetrically on two pillars and would thus never be capable of doing so.